Alright, I've made references to the explorer before. well here's the thread on it. Put it in RBV's under construction b/c we are about to start some work on it. Starting w/ the paint!!! then some motor mods to try to boost up the fuel economy. nothing like what my b2 is.
specs:
mostly stock 92 2wd explorer 4 door.
4.0
a4ld
3.73 LSD
39,350 showing on the dash.. probably 239,350
cheap vr3 walmart radio w/ usb, aux input
eBay clear headlights and corners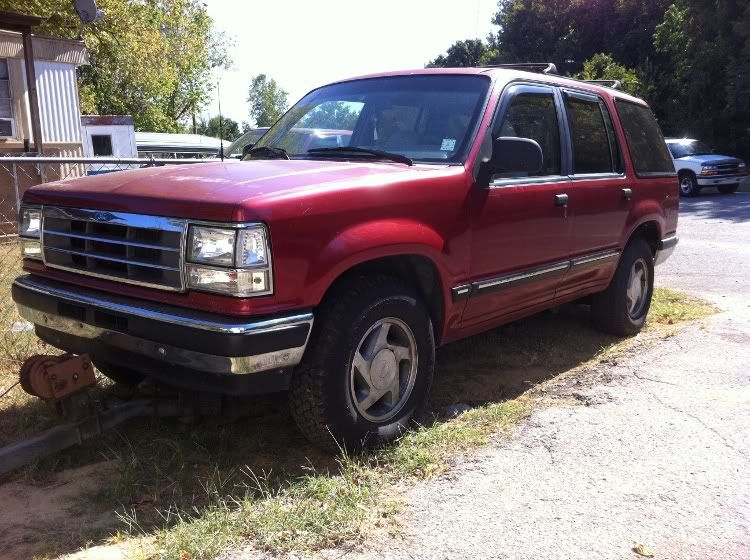 only pic i have right now. but i'll take more.. and take some through out the painting process and all.
right now i'm looking for the best place to get the door trim and stuff so we can get it ordered to have on the way. new paint means new trim to :icon_bounceblue:
but yeah, this thread won't be near as much as my b2. but hey, its a nice explorer and runs great. its the reason i wanted a 4.0 in my b2. we bought this explorer back in like 96. it was stolen off the used car lot and wrecked, we knew the guy that owned the lot so we bought it wrecked and replaced the fender, headlight assembly, and the grille, and repaired the hood.. then later we swapped the doors off my donor ex (it was same year, color, and 4 door) b/c the window motors and trim was better.
this is also usually our back up vehicle, but since it gets better gas mileage than the silverado-- my dad is driving it now.